About Us
our mission
To strengthen the dental technology market by helping independent laboratories thrive in an increasingly competitive market.
our values
To recommend solutions that are in the best interests of our clients.
To promise only what we can deliver, and deliver what is promised.
To support local markets and the manufacture of local made products.
To respect the confidentiality of our clients.
why we focus on independent laboratories
There is a need.
It is not affordable to employ a full time executive that would normally provide our services in a larger lab.
Most dentists want to see smaller labs thrive. All being equal and given the choice, dentists prefer to send to a local lab.
Independent labs make up over 3/4 of the laboratory market.
Advancements in lab management software and manufacturing technology enable smaller laboratories to maintain a competitive edge.
Independent business enriches and strengthens communities. Our team finds it rewarding and inspiring to work with entrepreneurs.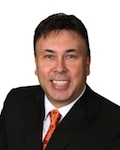 Darren brings with him over 25 years of dental industry experience, having started his dental career in 1990 with the Aurum Group of dental laboratories.
He was one of the Co-founders and Past Presidents of DTI Dental Technologies Inc. and where he expanded his knowledge of the dental laboratory industry.
While President, he designed and implemented DTI's acquisition plan and helped design the sales strategies for laboratory growth. He served as a board of director for DTI and was instrumental in taking the company from a private company to being publicly held.
Darren is a very energetic person who believes anything can be achieved through proper planning and hard work. Using his knowledge of finance and business practices as well as the friendships gained as an entrepreneur he enjoys helping others achieve success by building a winning formula.

Patti Glendinning
Vice President
As Vice President of Approach Management Group, Patti's diverse talent spans both operations management and business development. Patti has a special gift in tending to and propagating business relationships combined with an unwavering drive to make things happen.
With over 20 years managing in the dental industry Patti has worked with laboratories throughout Canada and the US. Leading laboratories in change management with business organization & development being her specialty.
Patti is known for her integrity, personable nature and professionalism. She understands laboratory management inside and out and treats your business with the same care and attention as if it were her own.
An avid believer that collaboration is pivotal to achieving success, Patti believes that pooling the strengths of team members with strategic alliances is key to achieving business goals.
Patti enjoys spending time with her family and exploring the outdoors.